Welcome to the Bogalusa Branch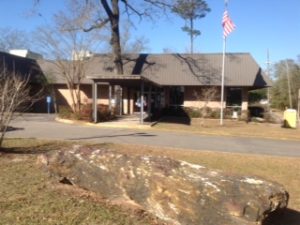 304 Avenue F. Bogalusa, LA 70427
Phone: 985-735-1961
Fax: 985-735-1996
Hours:
Monday & Tuesday   9:00 am – 6:00 pm    Wednesday – Friday         9:00 am – 5:00 pm    Saturday 9:00 am – 1:00 pm
Staff:
Mr. Guy  – Manager
Mr. Alan – Assistant Manger
Mrs. Dawn –  IT Tech
Ms. Anna – Library Associate
The Bogalusa Library offers the following services:
1. Computer printouts  (five pages free, 10 cents a page   thereafter).
2. Free Wi-Fi with wireless printing.
3. A color photocopier ($0.50 per page)
4. A photo scanner
5. Faxing   ($1.00 per fax)
6. Copier ($0.20 per page)
Bogalusa's collection consists of over 45,423 items
including books(regular and large print), magazines,
videos, DVDs, and Audio-Books. The branch also contains
local history and genealogy collection. These collections
include census records, family histories and local newspapers.
Programs & Events
(The Library Branch frequently hosts different programs for all ages. Watch this space for upcoming programs.).